Data vendors are constantly competing to provide the most accurate data for use in their clients processes.  RevealVendorWorks (RVW) provides data providers with insight into how they compare against their competitors and where they perform best.  Based on actual data collected from clients CRMs, RVW provides a monthly report on how well the data is working.  Although sometimes hard to hear, knowing is better than believing you are the best.
RDW is fueled by powerful insights driven by our homegrown dashboards. The interactive dashboards provide users with key insights at their fingertips to always keep the finger on the pulse. Users can slice and dice the data as desired.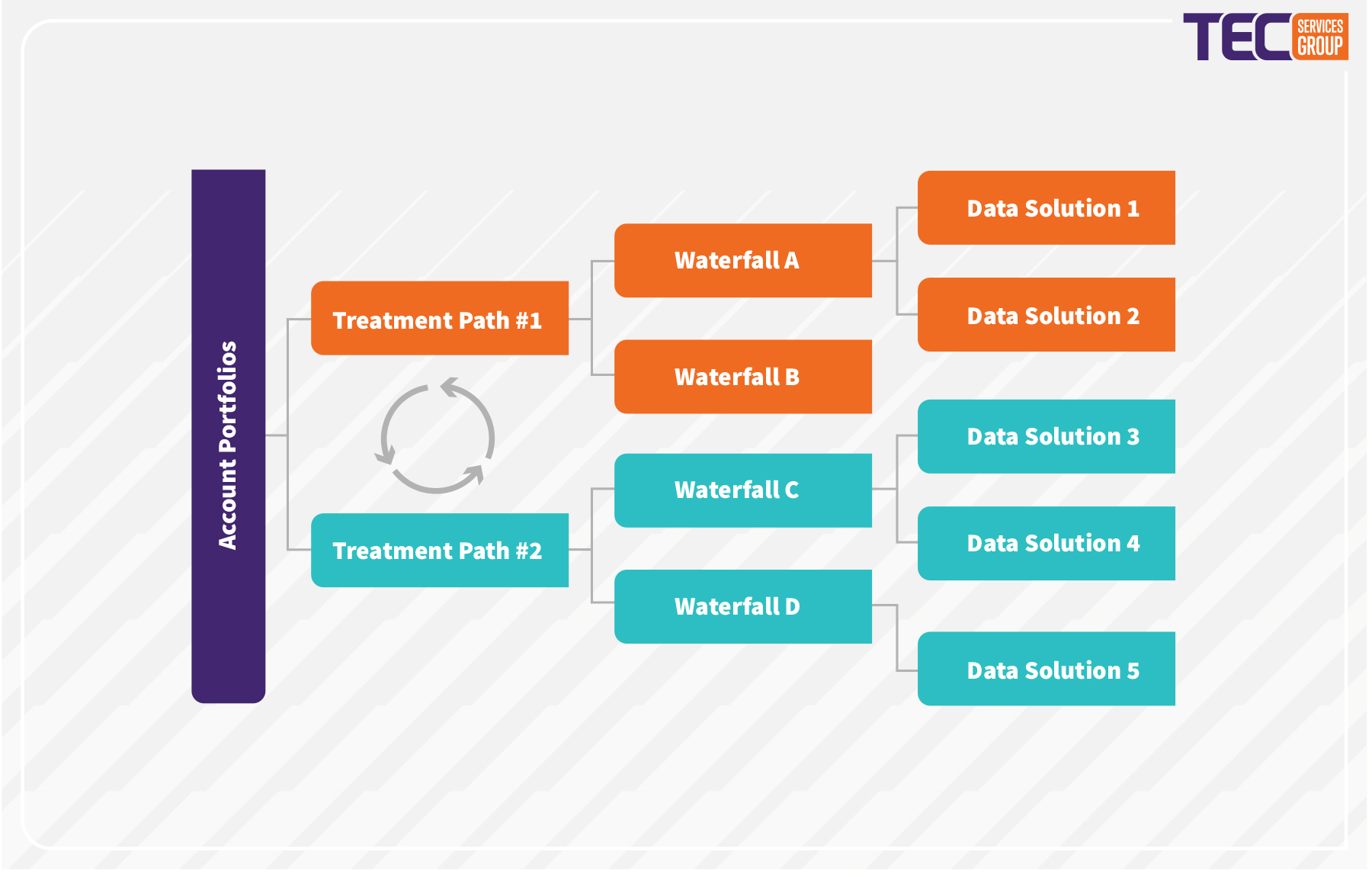 THE DASHBOARDS PROVIDE:
VENDOR PERFORMANCE METRICS I.E. HIT RATE, PHONES/HIT
OPERATIONAL PERFORMANCE INSIGHT I.E. RPC RATES, AVERAGE DIALS/PHONE NEEDED TO GET THAT RPC RATE, WRONG PARTY RATES AND A UNIQUE COST/RPC METRIC TO EVALUATE EACH VENDOR'S RESPECTIVE ROI
SMART DIALING METRICS I.E. RPC RATES BY PHONE SCORE TO DETECT IF HIGHER PHONE SCORES CORRELATE WITH BETTER RPC RATES

Example – Challenger Pool
Performance metrics for various strategies in a champion challenger pool.

Example – Ingredients Vs. Recipe
Performance can vary by correctly sequencing the vendors. Different line up results in different performance (RPC Rate, WPC Rate etc).
Note – PH10 is champion strategy getting most of the volume

Vendor ROI Calculation
RDW Dashboards allow you to compare vendor performance and see the incremental lift of using each data vendor. In the following example, based on cost/rpc metric, Equifax is the most expensive vendor but it is bringing in more than 12 million in fee dollars. Based on cost, an agency might decide to remove Equifax and not use it. However, in that instance, the agency will miss out on their 2nd best performer based on dollars collected, demonstrating the power of insights in RDW Dashboards.

Strategy Level Insights & ROI
RDW can be configured to facilitate varying strategies and then measure their respective performance as shown below. This helps in detecting the right sequence of vendors/strategy for the use case.


THE ONLY AUTOMATED DATA STRATEGY SOLUTION THAT COMBINES TECHNOLOGY, ANALYTICS, AND VENDOR MANAGEMENT:
AUTOMATE MANUAL PROCESSES
GAIN PERFORMANCE INSIGHT
DECREASE SKIP TRACE AND DATA EXPENSES
FUTURE PROOF YOUR GROWTH WITHOUT ADDITIONAL OVERHEAD
RevealDataWorks (RDW) is the first solution of its kind in data services management. TEC is proud to work with most leading data vendors to deliver a unique solution to cost control, data accuracy, and data automation. and act as a part of your team.
RevealDataWorks is the premier solution that provides operational efficiency and intelligent data purchasing strategies resulting in improved RPC rates, decreased work effort, and insight into data vendor performance.
Automated waterfall strategies can be customized to fit different asset classes and portfolios with varying margins to ensure every account gets the most effective treatment. These tailored strategies can be altered and enhanced with almost zero IT effort on agencies.
RevealDataWorks is ideal for third-party and first-party companies of every size looking for an increase in performance, decreased data costs, and insights data ROI.
Automated data waterfall with strategic vendor management consulting.
Take the guesswork out of data decisions.
TEC Analytical Services helps debt collection organizations evaluate, source, implement, manage, and optimize the use of third-party data products. Our experienced consultants work as an extension of our clients' internal teams, providing the knowledge and resources needed to raise the performance and profitability of debt collection processes to the next level. We have helped every single one of our clients:
SECURE MORE CASH
REDUCE COLLECTION EXPENSES
INCREASE REVENUE
IMPROVE RANKINGS
GAIN A COMPETITIVE EDGE
 Strategy.
Combining expert knowledge of the data industry with science, we tailor data strategies to specific desired outcomes, asset classes, and client needs. Our data strategies match and configure the right data products to the client environment using proven analytics. And we don't just use best practices – we create them.
We keep a strong pulse on the industry. We test data and evaluate vendors every day. We know what works. We know what doesn't. So, after assessing a business and understanding its needs, we can efficiently deliver a data strategy ideally suited to each environment that will produce measurable results.
THE TEC ANALYTICS TEAM CAN PROVIDE A COMPETITIVE EDGE WITH SERVICES SUCH AS:
COMPREHENSIVE NEEDS ASSESSMENT
THIRD-PARTY DATA SPEND ASSESSMENT
DATA WATERFALL DESIGN
DATA STRATEGY CONSULTING
VENDOR SELECTION
VENDOR PRICE NEGOTIATION
VENDOR RELATIONSHIP MANAGEMENT
DEDICATED SUBJECT MATTER EXPERTS
Waterfall management.
TEC can simplify and streamline transactions between third-party vendors, client collection, and legal software platforms using a platform-agnostic hosted waterfall system. First, clients send files directly to TEC, which eliminates the need to write and manage multiple vendor interfaces; then, configurable treatment paths and processing rules (which can be changed without programming on the fly) intelligently move accounts through a multi-vendor waterfall before returning scrubbed files. The automated process works seamlessly and efficiently, allowing staff to focus on what's most important – collecting money.
OUR AUTOMATION PLATFORM:
MANAGES THE DATA PROCESS THROUGH A DEDICATED HOSTED DATABASE
ALLOWS ACCESS VIA TEC STANDARD FILE LAYOUTS
FEATURES CONFIGURABLE BUSINESS RULES
INCLUDES MULTIPLE VENDOR INTERFACES
HELPS IN THE SELECTION OF THE BEST VENDORS
OFFERS UNLIMITED DATA STRATEGIES
DELIVERS INSIGHTFUL PERFORMANCE REPORTING
Performance reporting & insight.
TEC Performance Reports measure key performance indicators (KPI), so our clients can make informed data and strategy decisions. Performance can be evaluated by the line of business, forwarder, asset class, score range, balance, and any other industry segmentation.
Our subject matter experts study the data, extract "golden nuggets," and provide actionable insight that can lead to even greater profitability and performance.
WE CONTINUOUSLY MEASURE RESULTS AND OPTIMIZE STRATEGY BY REVIEWING:
WEEKLY WATERFALL PERFORMANCE REPORTS
WEEKLY DATA SPEND AND SAVINGS REPORTS
DUPLICATE PHONE AUDIT REPORTS (WHEN APPLICABLE)
AD HOC WATERFALL SEGMENTATION REPORTS
CHAMPION/CHALLENGER TESTING